15.05.2017 - Radiohalos of spiral galaxies - the impact of CHANG-ES in Bochum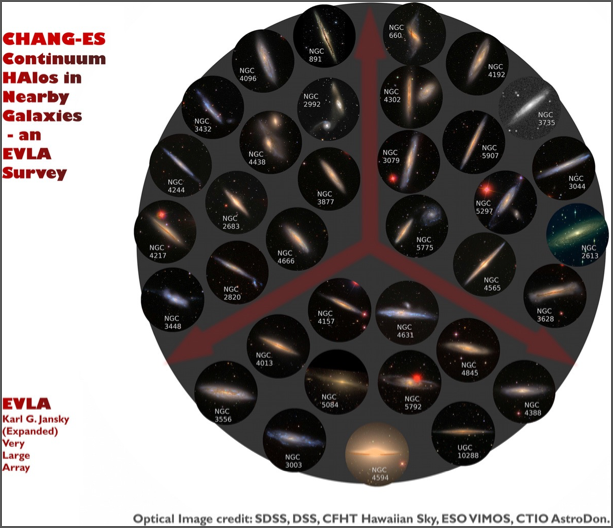 Between June 6th and 10 th, 2017 the meeting concerning Radiohalos of spiral galaxies - the impact of CHANG-ES takes place in Bochum. The research group of Prof. Dettmar is coordinating group. The meeting is distributed over four days, where scientists from the CHANG-ES group as well as guests will come together.
The Galaxy survey "Continuum HAlos in Nearby Galaxies – an Evla Survey (CHANG-ES)" was observed at the Expanded Very Large Array (EVLA radio telescope), New Mexico, USA. It contains a galaxy sample of significant size over a variety of angular spatial scales, which will help to address fundamental questions regarding radio halos and magnetic fields in spiral galaxies. The galaxies were observed at the two low frequencies, 1.5 GHz (20 cm wavelength) and 6 GHz (6 cm wavelength). CHANG-ES can also exploit the wide bandwidths that are provided by the EVLA. These wide bandwidths permit enormous improvements in continuum sensitivity. In addition, the wide bands provide a wealth of spectral information that will be unique to this survey. Moreover, CHANG-ES is the first survey of edge-on galaxies for which all polarization products will be obtained, providing important information on halo magnetic fields (Irwin et al. 2012).